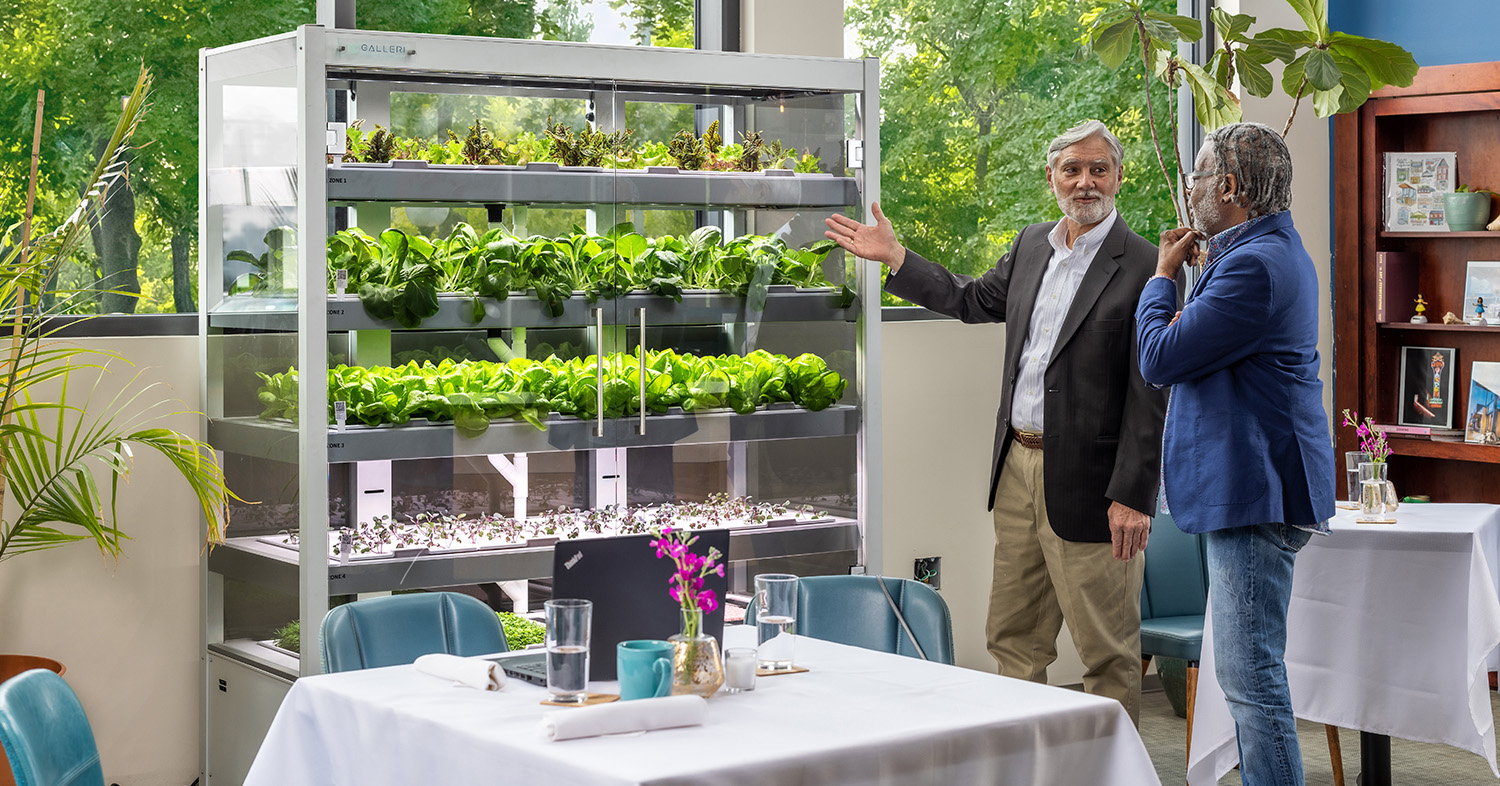 From Virginia to the World
Unique Program Has Virginia Students Acting as Export Advisers
(FROM VEDP – From Virginia to the World | Virginia Economic Development Partnership (vedp.org) Richmond, VA)
One Virginia company's vision of how we grow our food may sound like science fiction. But it's getting an unusual assist from a unique partnership forged by VEDP's International Trade Division.  
The Virginia International Trade Alliance (VITAL), which has helped to breathe life into more than 100 Virginia companies looking for export advice, could ultimately impact companies across the state and importers and exporters across the globe.  
Among VITAL's most compelling projects is the work it's recently completed — free of charge — for a Richmond company that's focused on growing vegetables in water instead of soil.  
That may be just the tip of the iceberg. The export market screams opportunity — roughly 95% of the world's population lives outside the United States. Van R. Wood, a marketing professor at Virginia Commonwealth University (VCU) in Richmond, notes that the global economy is projected to grow to nearly $300 trillion in the next 30 years. If this does come to pass, the majority of market opportunities and sourcing options may lie in larger emerging markets (e.g., India, China, Mexico, Brazil, Africa) as opposed to developed markets (e.g., Europe, Japan, Australia). Forward-looking companies should have a full array of global markets on their radar screens. 
Finding Markets for Innovative Food Tech
It all starts with just a single head of lettuce. Or with some freshly grown basil. Or even a leaf of chard. 
It doesn't really matter which vegetable, because all of this can be grown by Richmond-based Babylon Micro-Farms via the very same hydroponic farming system — without a speck of soil. Babylon's water-based systems are powered remotely by cloud technology, and the company wanted to put them in front of as many potential customers as made sense. That's why Babylon found some unique help from VITAL in its bid to ultimately get its special technology exported across the globe.  
"The idea is to eliminate food deserts and bring fresh vegetables within reach of everyday people," says Marc Oosterhuis, the company's chief operating officer.  
That particular goal, however, is a bit further in the future. In the near term, Babylon is simply trying to figure out which countries around the world might be the most logical export candidates for its hydroponic systems. And, just as importantly, what are the best markets within each country for expanding the use of their products.  
They really can come up with criteria that companies might not think about in segmenting an export market. It's all about picking the countries that give you the highest chance of success. 

MARC OOSTERHUIS – Chief Operating Officer, Babylon Micro-Farms
That's where VITAL has helped Babylon move forward, with a major assist from a class of graduate business students at VCU. Overseeing this particular project — and many others like it through the years — is Wood, the university's Philip Morris Chair in International Business and director of the VCU Center for International Business Advancement.  
Along with VCU, three other Virginia research universities — George Mason University (GMU), James Madison University (JMU), and Old Dominion University — provide Virginia companies with customized business plans and market research aimed at improving export readiness. 
"No one wants to be left out of business opportunities around the world," Wood said. "We find the markets that might want your products and services."  
A Win-Win Proposition for Companies and Universities 
The program is also improving the export knowledge of the student researchers. "We are educating the next cadre of international managers to understand the nature of globalization and best practices for finding markets," Wood said.  
Wood says he has benchmarked the free export advice that Virginia companies receive from his master's classes against major consulting firms. By the end of one semester, the business would receive about 135 student hours of consultation, which could be valued at tens of thousands of dollars.  
We are educating the next cadre of international managers to understand the nature of globalization and best practices for finding markets. 

VAN R. WOOD, PH.D.Philip Morris Chair in International Business, Virginia Commonwealth University
For Wood, who helped create VITAL in 2016, it's been an annual, real-world adventure through which he's led his graduate students for the past six years — a unique alliance among Virginia's universities, businesses, and state agencies. He says each VITAL project has presented his classes with unique challenges.  
VCU completed a VITAL project for Fortune Auto, a Powhatan County-based manufacturer of performance automotive suspension and shock absorber systems. Elsewhere in Virginia, GMU completed a VITAL project for Henrico County-based Bluetooth developer Spanalytics, while Staunton-based Huss & Dalton Guitar Company got insights from JMU students. All three companies went on to engage further with VEDP International Trade services — Fortune Auto and Huss & Dalton participated in VEDP's market research services and Trade Show Program, while Spanalytics enrolled in VEDP's Global Defense Program and completed a trade mission to Mexico. 
An Innovative Solution to Food Insecurity
Babylon's roots are actually in Charlottesville, where the company was co-founded by University of Virginia engineering students Alexander Olesen and Graham Smith. They wanted to design a low-cost "micro-farm" to provide nutritious produce for food-insecure refugees in the Middle East.  
In order to reach that ultimate goal, the company had to first prove that its science was solid. So, they developed a form of vertical farming, where plants in water are stacked under LED lights. Under this scenario, weather conditions like wind, rain, and drought don't really matter. Because of the modern technology required to develop micro-farms, the initial food costs are not cheap.  
Far from food deserts, early test markets have been quite the opposite. Micro-farms have proven particularly popular inside hotels, universities, hospitals, and senior communities. Oosterhuis says in some senior centers, residents have been so fascinated with the individual plants that they have even taken to giving them names.  
Looking toward the future, the students advised Babylon that potential markets definitely exist in the Middle East and in European markets like Germany and the Netherlands.  
And, yes, with the assistance of VITAL, Oosterhuis says that Babylon "is now ready for prime time." It has 75 micro-farms right now and hopes to have more than 600 by the end of 2023. It's now identifying partners to work with in Dubai and Europe, and expects to finally begin to export its technology sometime during the second half of 2022.  
He suggests that smaller companies like his — with little to no experience in exporting — could best benefit from the VITAL program.  
"They really can come up with criteria that companies might not think about in segmenting an export market," he says. "It's all about picking the countries that give you the highest chance of success."  
In his company's case, that success can begin with a single head of lettuce.