What can I Grow in my Galleri Micro-Farm?
A Galleri can grow combinations of 45+ Leafy Greens, Lettuces, Micro-Greens, Herbs, and Flowers.
Our produce menus will vary for US and International customers.
Below are many of the plants, mixes, and varieties you can choose from.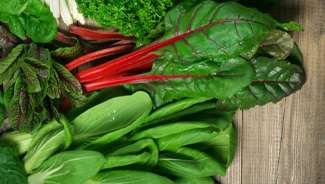 LEAFY GREENS & LETTUCES
Total Grow Time:
6-7 Weeks
Including Germination
Boost your business with our fresh and crispy lettuce varieties. From romaine to butterhead, and lollo rossa, our lettuce is in high demand by consumers, grocers, and chefs. Find the perfect salad base to elevate your culinary creations. Unleash your potential with our exceptional lettuce selection!
Lettuces

Green Butterhead
Green Leaf
Lolla Rosa
Red Oak
Red Butterhead
Iceberg
Romaine

Leafy Greens

Bok Choy
Leafy Cabbage
Kale
Mustard Greens

Green Mixes

Crunch Mix
Summer Mix
Harvest Mix
HERBS & FLOWERS
Total Grow Time:
Herbs 7-11 Weeks | Flowers 11-17 Weeks
Including Germination
Elevate your dishes effortlessly with our exquisite selection of fragrant herbs and edible flowers – sweet basil, vibrant marigolds, and fresh mint. Enjoy year-round availability for professional chefs seeking sophistication. Experience the unparalleled quality of our crops, chosen for exceptional taste and aroma.
Herbs

Cilantro
Mint
Red-Veined Sorrel
Sage
Thyme
Thai Basil
Genovese Basil
Holy Basil
Opal Basil
Lemon Basil
Oregano
Parsley
Dill

Flowers

Herb Mixes

Purple Basil Mix
Italian Herb Mix
Tangy Basil Mix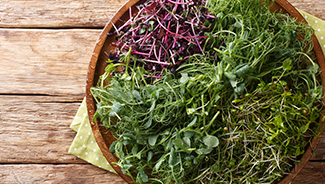 MICROGREENS
Total Grow Time:
2 Weeks
Including Germination
Discover the incredible power of microgreens, the vibrant and nutrient-packed seedlings of vegetables and herbs. These little wonders deliver an explosion of flavor that will captivate every palate. Chefs around the world have fallen in love with these fast-growing beauties, and it's no wonder why. Despite their small size, microgreens command high prices, making them a lucrative crop to cultivate. Unlock the potential of microgreens and elevate your culinary creations to new heights!
Micro-Greens

Arugula
Basil
Broccoli
Cabbage
Kale
Kohlrabi
Mustard Greens
Pea Shoots
Red Radish

MicroGreen Mixes
Crop Yield Averages
Single Crop Monthly Harvest Averages
12-20 lbs Leafy greens per month (4 zones only – excludes bonus micro-green tray)
8 – 16 lbs of Herbs per month ( 4 zones only – excludes bonus micro-green tray)
140 – 400 oz ~ 24lbs of Microgreens per month (All 5 zones, harvested twice)
Average Harvests
The following chart is based on a typical single-zone harvest schedule
Crop 
Average Yield
Harvest Frequency
Benefits
Leafy Greens
3-5 lbs

Single

Whole plant is gathered once per scheduled harvest.

Versatile crop
Freshest available
Reliable supply

Herbs
0.5-1 lbs

Multiple

Leaves/stems are cut back and gathered more than once per scheduled harvest.

Less maintenance
Reliable supply
Unique activity opportunities

Flowers
Varies based
on harvest of flowers/buds/plant

Multiple

Flowers/buds/whole plant is either cut back or gathered more than once per scheduled harvest.

Less maintenance
Pop of color
Unique activity opportunities 

Microgreens

4-8 oz

per tray

Single

All microgreens collected per scheduled short harvest.

Fast growth & high ROI*
High nutritional value
Culinary versatility
Simply Delicious
Harvest safely on-site with GuidedGrowing™ and simplify the complex food riddle for those you serve. Simply grow, harvest, and serve. The end.