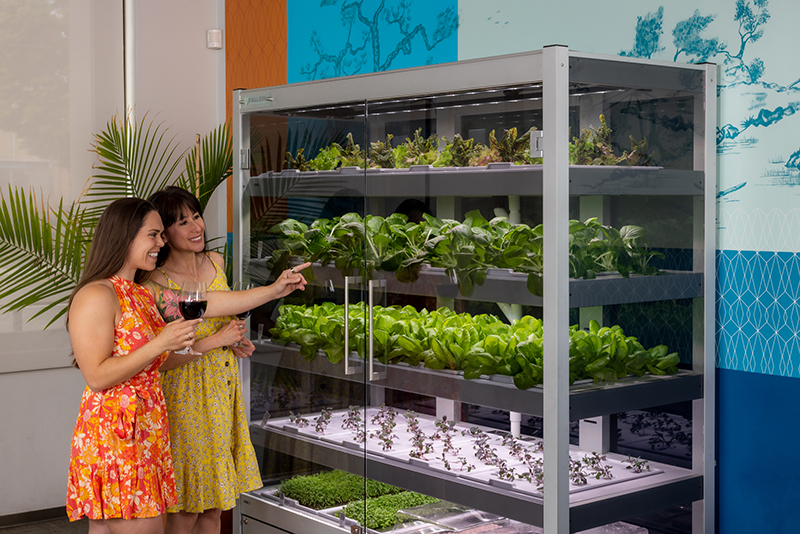 Babylon Raises $8M in Series A Funding
Richmond, VA April 3, 2023 –
Babylon Micro-Farms Inc., a leader in on-site vertical farming solutions, has closed an $8M Series A led by Venture South with participation from Virginia Venture Partners, Hull Street Capital, and New Theory Ventures, among others. Additionally, the company was also awarded a $500,000 grant from the National Science Foundation. The funding will support Babylon's growth and help new businesses and communities to grow their own food in a reliable, safe, and convenient way using Babylon's remotely managed vertical farms. 
"This investment gives us the resources we need to execute our growth plans serving a range of businesses and communities across North America. We have a fantastic team in place who's worked tirelessly to get the company to where it is today, and it's great to see strong investor support for our fully distributed approach to vertical farming in a tough macro-economic environment," said Alexander Olesen, CEO & Co-Founder of Babylon Micro-Farms "We are demonstrating that growing food on-site is a powerful tool for foodservice operations to source high-quality, fresh ingredients while educating and inspiring their communities to eat healthy food".
Paul Clark, Managing Director of Venture South, said: "VentureSouth is excited to lead Babylon's Series A. VentureSouth members from Virginia and across the southeast are excited to continue working with the Babylon team as they accelerate their growth across the US…when dynamic companies impress active investors, capital can be deployed to execute ambitious plans."
In 2022, Babylon launched the Galleri Micro-Farm which has accelerated adoption with clients ranging from MSC cruise lines to retailers like IKEA, Neiman Marcus, and major food service management clients like Aramark. They currently operate well over 150 locations within the healthcare, education, and corporate dining sectors. This funding will allow them to expand their go-to-market efforts and support their growing client base in the US and internationally.
Babylon was recently awarded Emerging Technology Startup of the Year at the 2022 RVA Tech Awards. Co-founders Alexander Olesen and Graham Smith were listed on Forbes 30 Under 30 for Social Impact. The company's work was featured in the award-winning Made in Virginia documentary.
Company Overview: Founded in 2017, Babylon's indoor farming service enables businesses and communities to safely grow their own ultra-fresh, sustainable produce. Its proprietary BabylonIQ software platform remotely manages the network of modular vertical farming systems. The data collection capabilities enhance the experience by tracking production and measuring efficacy. The service includes semi-automated vertical farms, software, and supplies wrapped into a flat monthly fee. 
Chris Hollomon

Marketing

 Manager – Babylon