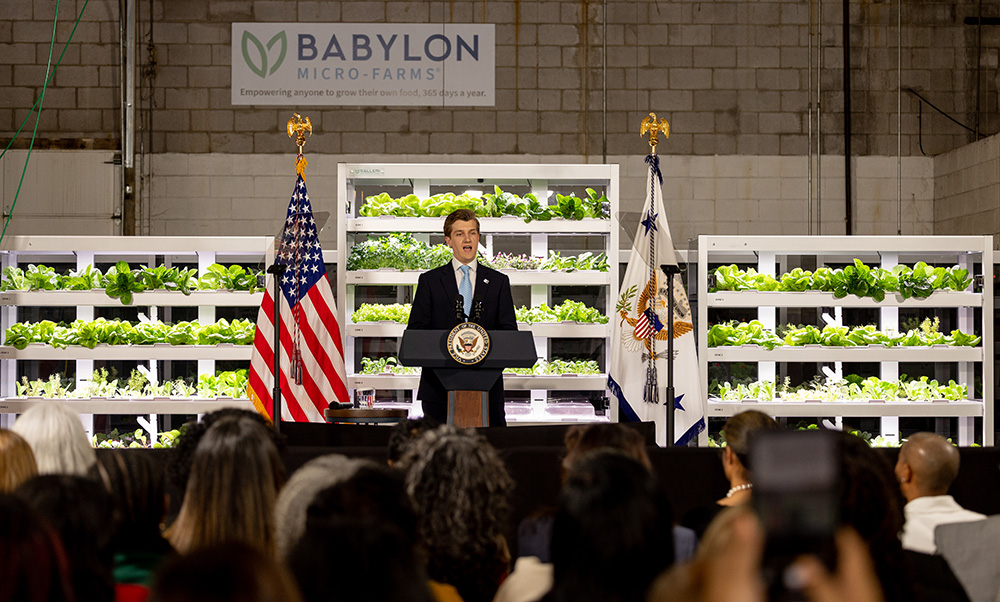 5/4/2023 – Richmond, Va
All great things start small, and only this country has the market, culture, and unfailing optimism that encourages people to take risks that can turn dreams into reality.
At Babylon, we're empowering businesses and communities to grow their own food on-site, all year round, in a way that captivates the imagination about where your food comes from. 
Indoor farming can enable anyone to grow their own food, using 90% less water, without the use of pesticides. 
This is an essential tool for food security and the fight against climate change. 
 Our goal is to develop an ecosystem of accessible and affordable vertical farming products powered by the BabylonIQ remote management platform so that anyone can be a vertical farmer. 
We've grown this idea from a school project to a scaling enterprise with clients like IKEA, LinkedIn, and Aramark.
The team has worked tirelessly over six years to develop our technology and commercialize the most advanced modular vertical farming systems on the market today. Each 15 sqft module is the equivalent of a 2000 sqft area of outdoor farmland.
The products, technology, and manufacturing process that you see here are setting the standard for Micro-Farming globally.
Our decision to move to Richmond and the opportunity zone here in Scott's Addition has provided a strong foundation for our fast-growing business and enabled us to build a home for our 37 team members.
I'd like to extend my deepest thanks to Virginia Venture Partners, SSBCI, the Commonwealth of Virginia, and the Biden-Harris Administration for their tremendous support. The grant funding we received has allowed us to get where we are today.
We are deeply honored to show you the work that we do at Babylon Micro-Farms and demonstrate the potential for small businesses to be at the very cutting edge of sustainable technology. 
With this administration's support, our industry has a bright future.
Without further ado, it is my honor to welcome the Vice President of the United States, Kamala Harris.