America has more people over 100 years old than ever before. Not only are today's seniors living longer, but they're also staying active later into life. Many are strongly focused on whole-life wellness and satisfaction.
Senior living communities are embracing the change. Increasingly, senior communities are expanding and reworking their dining programs to support resident wellness.
However, great dining programs can promote a resident's wellbeing in ways beyond just great food. Here's a look at the five best food service programs for senior wellness trending now.
1. A Retail Approach to Senior Dining
The modern dining experience for seniors has moved squarely away from centralized dining. Instead, it mimics mainstream restaurant concepts:
Full-service restaurant-style dining rooms

Fast-casual food counters

Trendy, dedicated spaces like coffee shops and juice bars

Classy light-fare bistros

Fashionable pubs and wine bars
Now, seniors can enjoy eat-in and take-out meals along with snacks while interacting with each other.
What does senior's eating in a social environment have to do with resident wellness? It directly combats loneliness.
Loneliness and social isolation are literally fatal, increasing rates of depression, anxiety, and illness.
Senior dining programs that use a retail model empower seniors to live fulfilling social lives. Coffee shops or wine bars provide comfortable and informal settings. Each presents a social space for long, intimate chats with friends.
These cozy food environments strengthen seniors' social networks and promote:
Healthy social bonding

Mental and emotional health

Immune systems

Resilience
2. Farm-To-Fork Programs
Farm-to-fork or farm-to-table programs aren't new, although they used to be rare. These days, farm-fresh foods are a staple in the modern dining experience.
The growing popularity of farm-to-table programs in senior living facilities is closely related to resident wellness initiatives. Dietary menus for assisted living communities are increasingly emphasizing healthy foods.
Chefs can easily draw skeptical eaters to healthier foods using:
Brightly colored fruits and vegetables

Stunning presentations

Live cooking demos

Seasonal food displays and classes

Local specialty foods
All of these techniques benefit from having access to the freshest and most seasonal food available.
Farm-to-fork programs also appeal to seniors' sense of social responsibility. As a result, residents feel more connected to the sources of their food, promoting activism, and better nutrition.
3. On-Site Gardens
On-site gardens offer many of the same benefits as farm-to-fork programs. They also provide unique advantages that farm-to-table programs can't, delivering seniors a modern dining experience.
Benefits of On-Site Gardens
Provide enriching activities for residents.

Give chefs and residents more control over and personal investment in their food.

Enhance community wellness and sustainability programs.
Few senior living communities are fortunate enough to have room for the kinds of sprawling gardens we tend to associate with farm-to-table programs. Fortunately, new technology is putting on-site gardens within reach for everyone.
Indoor vertical gardens are the future of farm-to-table dining. This innovative new model is revolutionizing how senior communities live, work, and dine.
Benefits of Indoor Vertical Gardens
Give communities ownership of their food.

Allow for a consistent supply of healthy greens and herbs year-round.

Are available to all facilities regardless of climate.

Make heirloom, non-GMO produce more affordable.

Can be scaled to meet facility needs.
These gardens are among the best senior living dining program additions. Many seniors love being part of the process, and comprehensive technology paired with superior support makes it quick and easy to set up a garden.
Facilities looking to stand out or expand their dining programs with minimal physical renovations will love indoor gardening.
4. Home-Style Kitchens
Another trend in senior care is home kitchen setups within facilities.
Industrial kitchens are large and efficient but are usually off-limits to residents. Understandably, legal rules keep residents out of commercial kitchens for their safety. But for seniors who have long loved to cook, being cut-off from the kitchen can feel like losing part of themselves.
Installing modest, home-style kitchens alongside or within residents' living areas bridges the gap. While these kitchens will never be a substitute for an industrial kitchen, they:
Give residents more agency in their dining experiences.

Create opportunities for social bonding.

Create opportunities for healthy movement and activity among residents.
Interestingly, home-style kitchens can be combined with indoor gardens the same way that industrial kitchens can. A combined approach can bring both gardening and cooking into residents' lives in healthy, wellness-inspiring ways.
5. Fitness and Food Connections
The final big trend to be aware of is intentionally connecting food to other health and wellness initiatives. With modern seniors living more active lives, many facilities now employ dieticians and fitness professionals.
These professionals often run challenges, activities, and educational campaigns for residents to stay agile and healthy. When chefs and senior dining staff team up with fitness experts, beautiful things can happen.
For example, chefs writing the facility's aged care menu can align their dishes with current fitness education campaigns. Or they can create senior living menu ideas that provide nutrients directly associated with a specific fitness challenge.
No matter how you approach the collaboration, it's a valuable asset to senior living communities. It shows residents that your facility understands the interdependent impact of food and fitness, and provides seniors with a holistic approach to wellness.
Which Senior Dining Program Is the Best Food Service Option for You?
Ideally, you would never have to choose between these excellent programs. Instead, your facility could layer them on top of one another. Your staff and residents could have access to fresh, delicious, and pesticide-free food year-round. You could prepare food in both commercial and home-style kitchens and reap all the benefits.
However, realistically, few facilities are positioned to implement all of these top five senior wellness trends.
Cost and other logistical details can delay renovations and put some things out of reach. Fortunately, at least one of these trends is available to everyone. Indoor micro-farms, for example, can fit practically anywhere.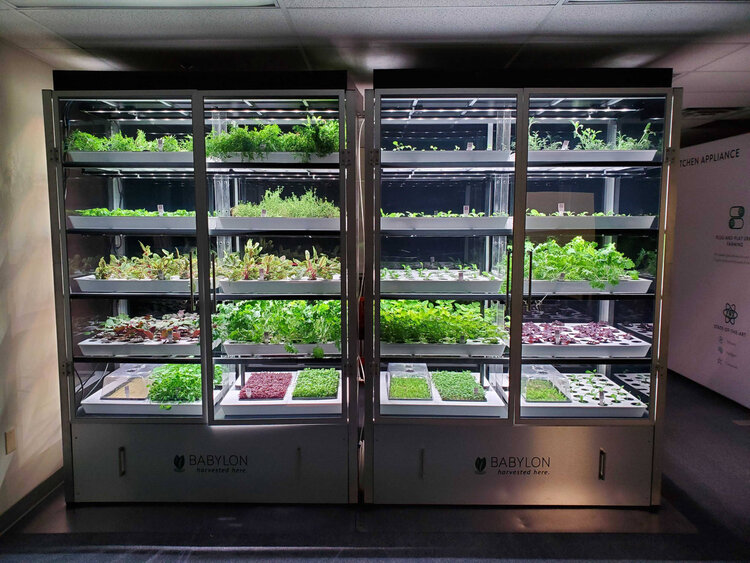 Upgrade Your Food Service
With the comprehensive support provided by micro-farm companies like Babylon Micro-Farms, an indoor farming system can be up and running in no time. You don't need any specialized knowledge, renovations, or other out-of-reach resources to make them a reality.
Upgrade your dining facilities to the best food service around today. Let Babylon Micro-Farms' indoor garden experts help you set up an indoor micro-garden in your facility and take your community to the next level.